For Yanukovych, A Fleet-Footed Dash To Repair Russia Divide
RFE/RL
For Yanukovych, A Fleet-Footed Dash To Repair Russia Divide
29.04.2010 16:21
By
Gregory Feifer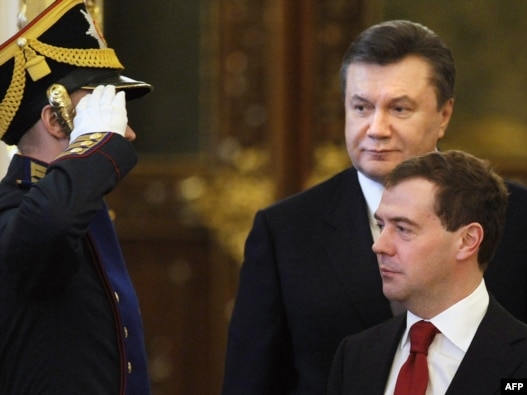 Last week, the Ukrainian city hosted newly elected President Viktor Yanukovych and his cheerful-looking Russian counterpart Dmitry Medvedev for the signing of a sweeping agreement reversing two of the most symbolic policies of Ukraine's ousted pro-Western leadership.
Yanukovych extended by at least 25 years a lease held by Russia's Black Sea Fleet for the use of a former Soviet naval base at the port of Sevastopol. Many Ukrainians see the base as a hostile presence left over from the communist era, and former President Viktor Yushchenko had vowed the lease wouldn't be renewed after it was set to expire in 2017.
In return, Moscow gave Ukraine a 30 percent discount on the amount it pays for Russian natural gas, which could save Kyiv tens of billions of dollars. The energy deal rolls back a landmark agreement reached last year that some hoped would boost Ukraine's sovereignty by establishing market-based relations and ending decades of bitter acrimony over what Russia said were subsidized rates that Ukraine paid for its gas.
Russian officials could hardly contain their pleasure, calling the deal historic. Since the Orange Revolution five years ago, Moscow has fumed over Ukraine's drive to join NATO and other Western-leaning policies. Now Russian Prime Minister Vladimir Putin has said the gas-for-fleet deal is an "expensive" necessity for Moscow but that cooperation with Ukraine was more important than money.
"Cooperation in the military area improves a level of trust between two countries, gives us a chance to work with trust in the economy, the social sphere, and in politics as well," Putin said. "That's the most important thing."
Yanukovych may have been in office only two months, but the Ukrainian president is already moving at breathtaking speed to realign his country with Russia. Experts are warning his reversals of key policies of his pro-Western predecessors are polarizing Ukraine's society and threatening its stability.
Blue Revolution
The Kharkiv deal was only one of a series of moves that have rolled back his predecessors' policy of minimizing Moscow's influence.
Courts overturned Yushchenko's recent decision to bestow the title Hero of Ukraine on two anticommunist nationalist leaders. Yanukovych's Party of Regions has also moved to boost the official status of the Russian language, after Yushchenko spent years promoting Ukrainian.
In Strasbourg earlier this week, Yanukovych asserted that a Stalinist famine that killed millions of Ukrainians in the 1930s shouldn't be considered genocide, countering an argument Yushchenko had often pressed to Moscow's dismay. (Council of Europe parliamentarians today appeared to follow his lead, voting 55 to 21 against recognizing the famine as genocide.)
Yanukovych, in a statement posted today on the presidential website after he signed the Black Sea Fleet deal into law, said that "after five years of portraying Russia as an enemy," the period of discord between Kyiv and Moscow is over.
"Now I am ready to tell my voters: From now on, dialogue with our big neighbor will be based on the principles of equality, neighborliness, and healthy pragmatism, rather than confrontation and anti-Russian rhetoric," the statement read.
But the Ukrainian government's actions are causing bitter controversy in a country split in half between its Russian-speaking industrial east, which supports Yanukovych, and its largely pro-Western west.
Stark Differences
When Ukraine's
parliament ratified
the Black Sea Fleet deal earlier this week, opposition legislators threw eggs, set off smoke bombs, and came to blows with Party of Regions deputies. Outside the building, thousands of protesters scuffled with government supporters.
Political observers used to fisticuffs in parliament say they've never before seen anything on the same scale.
The opposition says Yanukovych is putting Kyiv under Moscow's sphere of influence despite his campaign promise that joining the European Union would remain one of Ukraine's main foreign-policy objectives.
The Kharkiv agreement has also prompted criticism for reversing the previous government's efforts to establish formal, Western-style arrangements for Russian gas purchases. Experts say the revival of old practices such as siphoning off profits will stifle hopes for reform under a recent deal with the EU.
Yushchenko told RFE/RL's Ukrainian Service the country now has a "totalitarian model" of management. "Three institutions are in the hands of one person: the parliamentary majority, the government, and the central bank," he said. Yushchenko said Yanukovych's goal is to make Ukraine "a privileged zone of influence for Russia."
Former Prime Minister Yulia Tymoshenko, who now leads the opposition, called the Kharkiv agreement "anti-Ukrainian."
"It's not just treason," Tymoshenko said. "It's the beginning of the systematic destruction of our country's independence and our state sovereignty."
Yanukovych's actions have flown in the face of widespread predictions -- many of them from the West -- that the onetime villain of the Orange Revolution could no longer be described as "pro-Moscow" and would pursue relatively neutral policies.
Instead, he's enabled the Kremlin to strengthen its influence over Moscow's crisis-ridden former Soviet subject by exploiting the price for gas, the top issue for Ukraine in its relations with Russia.
New Era
The speed of Yanukovych's actions has shocked many Ukrainians. Political expert Volodymyr Fesenko says the new president's strong-arm style is changing the nature of Ukraine's political system.
"Formally, the country remains a parliamentary-presidential republic, but in fact we're a presidential-parliamentary system," Fesenko says. "That is to say the main political figure, the main decision-maker, is now the president."
Critics say Yanukovych's actions pose a serious threat to the country's stability and development. Sociologist Iryna Bekeshkina says the president is splitting Ukrainian society to an unprecedented degree, even compared to the old pro-Moscow administration of former President Leonid Kuchma:
"Yanukovych is acting so severely and brazenly that he's effectively become legitimate in the eyes of only less than half the population, when his task should have been to unite society," Bekeshkina says.
Bekeshkina says Yanukovych has mortgaged Ukraine's long-term security for the short-term goal of reducing gas prices. She says that's dangerous, not least because officials in opposition-controlled western regions may try to sabotage the central government's policies.
The Kharkiv agreement has prompted some movement among Ukraine's highly fractured opposition. Tymoshenko and her former Orange rival Arseniy Yatsenyuk -- who also ran for president earlier this year -- said they would join forces to try to remove Yanukovych from office.
But political experts agree that even if opposition leaders can put their bitter differences behind them, they will have little hope of opposing a president with firm control over the government and a majority in parliament.