The First And Second Murders Of Heorhiy Gongadze - Radio Free Europe / Radio Liberty © 2010
The First And Second Murders Of Heorhiy Gongadze
September 18, 2010 By Serhiy Hrabovsky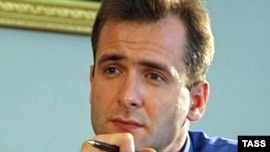 An entire epoch has passed since the disappearance and murder 10 years ago of Ukrainian journalist Heorhiy Gongadze. The age of former President Leonid Kuchma, which gave rise to secret units of Interior Ministry officers (the so-called "Kravchenko eagles" who dealt with opponents of the regime in illegal and often lethal ways) too has passed.
Kuchmaism began in Ukraine in 1994. Then, under mysterious circumstances, the chairman of the Ukrainian Barristers Union went missing. Enigmatic deaths that remain unanswered to this day followed: former National Bank Chairman Vadym Hetman, opposition leader Vyacheslav Chornovil, businessman and parliament Deputy Yevhen Shcherban, and many others. Prominent politicians, parliamentarians, journalists -- some died in strange road accidents, others were assassinated, and others seemingly took their own lives.
And then -- Gongadze. Sadly, he was not the last in this list of the dead. Other unexplained deaths followed. Journalist Ihor Oleksandrov was beaten to death with baseball bats; two other members of parliament perished in car crashes, as did the chief of the Ukrainian state arms export company. And almost as a culmination, when Kuchma finally exited the stage, another bizarre death: the suicide (as officially ruled by Ukraine's prosecutor-general) of former Interior Minister Yuriy Kravchenko. With two gunshots to the head.
The era of Viktor Yushchenko followed. During his tenure, mysterious deaths stopped occurring. Early in his presidency, Yushchenko declared Gongadze's murder had been solved and, in a way, it was. The actual killers were tried and imprisoned. But the names of those who ordered the killing remained a mystery. That mystery was solved only 10 years later, when officials named former Interior Minister Kravchenko as the culprit.
Heorhiy Gongadze was not a martyr in the service of freedom of speech, as some would have him. He was a Ukrainian journalist -- mature, experienced, hardened, and, at the same time, somewhat romantic. He was, however, very serious about his work.
Gongadze stood out from the journalistic crowd by daring to ask the unpleasant questions. I remember a television program during which Kuchma was taking questions from journalists. All but one posed polite questions that would not upset the president. The one who did not was Heorhiy Gongadze. It is highly unlikely that Kuchma could forget this episode. When he later claimed that he didn't even know who Gongadze was, the Ukrainian president was patently not telling the truth.
Gongadze created the first popular and influential Internet site in Ukraine, "Ukrainska Pravda." There are many rumors as to who financed the initial project, but those rumors are meaningless. What is important is that these were not criminal funds. Had this been the case, it would have become eminently clear during the first days following Gongadze's disappearance.
Ukraine's media situation is such that the vast majority of journalists must fall into line with the tastes and political inclinations of the owners of the media outlets where they work. Ukrainian media do not serve the consumer or the advertisers, but their sponsors, who see to the financial needs of the media in return for a certain political line or the advancement of their business interests.
These were the rules that Gongadze had to abide by in his work. However, wherever he worked, he established for himself a certain freedom.

'No Person, No Problem'
This was the case with Gongadze's "Ukrainska Pravda," which shortly after it appeared proved to be an oasis of free thought. And not simply free thought, but intelligent free thought and intellectual endeavor. The very nature of the World Wide Web fostered open and free communication, which 10 years later still eludes attempts by the authorities and official commentators to curtail it.
One way or another, Gongadze's work got to someone. In those days it was easy to deal with an opposition newspaper -- you simply unofficially banned the printing company from printing it. If the newspaper happened to have its own printing outfit, you close it down with an inspection. A violation of some sort could be easily found. Or, if could not, one could simply be fabricated.
A television or radio station was even easier to deal with. You simply take away their frequencies. But the Internet? Those who wanted to "neutralize" Gongadze took the most effective road, one dictated by the Stalinist formula "no person, no problem."
According to Ukraine's prosecutor-general, around September 13-14, 2000, then Interior Minister Kravchenko ordered the chief of the ministry's Department of Investigations, General Oleksiy Pukach, to kill Gongadze. On the evening of September 16, Gongadze was picked up by Pukach and other ministry forces, and, on the 17th, shortly after midnight he was killed. His body was buried in a forest, and his head, which Pukach personally cut off, was buried in a different wooded area.
During the first weeks of Gongadze's disappearance, a certain skepticism prevailed among fellow journalists. We all felt that his killers would never be found, much less those who ordered his death. But the case developed a life of its own: the Gongadze case became a symbol of the regime's lawlessness and of the struggle against this regime.
There are many unanswered questions in this case, despite the prosecutor-general's neat wrap up, questions that seemingly could be answered during the trial of Oleksiy Pukach. If the trial is an open one, of course, which as yet is uncertain. No other high-profile persons are named in the prosecutor-general's indictment.
However, according to "Ukrainska Pravda," Pukach's testimony to the prosecutor-general includes mention of the current parliament speaker, Volodymyr Lytvyn (who was then Kuchma's chief of staff) and Vinnytska Oblast Governor Mykola Dzhyga (then, deputy interior minister).
Pukach claims that shortly after killing Gongadze he was in the interior minister's office, where Kravchenko allegedly introduced him to Lytvyn by saying, "This is our colleague who personally took care of Gongadze." Kravchenko also allegedly tapped Pukach on the shoulder, turned to Lytvyn, and said: "Tell the president that we will carry out all of his instructions."
Pukach insists that not only Lyvyn and Dzyga knew about the murder, but Kuchma and Ukrainian Security Service chief Leonid Derkach did as well. Lytvyn denies ever meeting Pukach.
September 17 is the last day on which anyone can be charged with ordering Gongadze's murder, because of the statute of limitations. If this does not happen, the guilty parties will have gotten away with murder.
That may very well be why this investigation has dragged on these 10 years. Those who did the deed will be punished, but the crime's real masterminds will remain in the shadows. Perhaps it is no coincidence that all the blame is being placed on Kravchenko, a man who ostensibly took his life with two gunshots to the head. Gongadze never wrote anything about Kravchenko; he did, however, write a great deal about the other people mentioned in Pukach's statements.
Perhaps certain behind-the-scenes details will emerge during the Pukach trial, provided that it is open to the public -- and provided that the defendant doesn't meet with an untimely accident or suicide.
But perhaps the most significant outcome of the Gongadze killing has been the mobilization of journalists and Ukrainian society in general in a concerted defense of freedom of speech. There were serious achievements in safeguarding this freedom after the 2005 Orange Revolution. But many of these now are in danger of being completely rolled back. If the tendencies that we are currently seeing in Ukraine become the status quo, then this will become the cause that Gongadze stood for will die. He will have been murdered a second time.
Serhiy Hrabovsky is a Kyiv-based writer and a longtime contributor to RFE/RL's Ukrainian Service. The views expressed in this commentary are the author's own and do not necessarily reflect those of RFE/RL.