Ukraine Prosecutors Reopen Tymoshenko Criminal Probe - Radio Free Europe / Radio Liberty © 2010
Ukraine Prosecutors Reopen Tymoshenko Criminal Probe
Last updated (GMT/UTC): 12.05.2010 14:00
Prosecutors in Ukraine have announced they have reopened a 6-year-old corruption investigation into former prime minister and current opposition leader Yulia Tymoshenko.
According to a statement released by the prosecutor's office, Tymoshenko was summoned today and formally told that a May 2004 case, in which she was accused of bribing Supreme Court justices, had been reopened.
The move, which is likely to inflame political passions in Ukraine, comes just months after the pro-Western Tymoshenko lost a bitter election fight to President Viktor Yanukovych, who was favored by the Kremlin.
Tymoshenko charged that politics was behind the case, which alleged that she attempted to pay judges $125,000 to free her assistants who were being tried for corruption. Tymoshenko has long insisted that the case was fabricated by former President Leonid Kuchma, a Yanukovych ally, as part of a political vendetta.
She said today that the case, which was dropped in June 2005, has been discredited.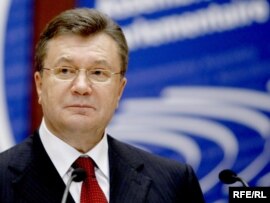 "As you may remember, this case was based on falsified claims, cooked up by the Security Service of Ukraine," she said. "It concerned alleged video recordings that reportedly confirmed giving bribes. I can say that this is a 'dead cat.' "
Ukrainian President Viktor Yanukovych
Tymoshenko also accused Yanukovych today of ordering prosecutors to reopen the case, saying, "I am surprised that Yanukovych pulls out old hopeless cases and creates open repressions. I want to stress that this is a direct order from Yanukovych. All employees in the Prosecutor-General's Office say this. The specialists in the Prosecutor-General's Office say that the case is absurd and has no chance of reaching court."
Tymoshenko told journalists she has been summoned to speak with investigators on May 17. She linked the criminal probe to Russian President Dmitry Medvedev's upcoming visit to Ukraine on May 17-18. Medvedev is due in Kyiv to sign a series of economic agreements with Yanukovych, which the opposition claims will give Moscow undue control over Ukraine's economy.
"I think that this is not a coincidence," Tymoshenko says. "You know that on May 17, [Yanukovych and Medvedev] plan to sign an agreement that I consider absolutely unacceptable for Ukraine, because [the agreement] means Ukraine will give up to Russia all the main state monopolies. The fact that Yanukovych wants to show on May 17 how he deals with the opposition underlines again that he is not a Ukrainian patriot and not the president of Ukraine."
Spokesmen for Yanukovych and the prosecutor's office have denied that the case is politically motivated.
Tymoshenko was in the opposition to Kuchma when the alleged offenses took place.
Former President Leonid Kuchma
Sentenced To Prison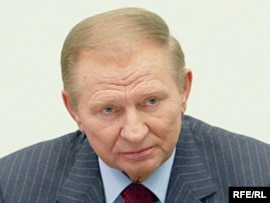 In late 2004, Tymoshenko led the Orange Revolution together with Viktor Yushchenko, who was elected president in December of that year following massive street protests. The corruption probe against Tymoshenko was closed in June 2005, which prosecutors now say was premature.
In 2001, Tymoshenko spent weeks in a Kyiv prison on charges of alleged financial violations relating to her activities in trading in gas imports in the 1990s. She was released and accused Kuchma of initiating the case for political reasons.
Yanukovych's prime minister, Mykola Azarov, charged last month that Tymoshenko's government misappropriated approximately $378 million, which was received from selling Ukrainian carbon quotas to Japan.
The Ukrainian government has hired the Washington-based firm Trout Cacheris PLLC to investigate deals made by Tymoshenko's cabinet.
Tymoshenko stepped down as prime minister after losing presidential elections in February. She has since emerged as a fierce critic of Yanukovych, particularly his moves to bring Ukraine closer to Russia.
written by Brian Whitmore, with contributions from RFE/RL's Ukrainian Service