Russia Poised To Leapfrog Ukraine, Moldova In EU Visa Drive - Radio Free Europe / Radio Liberty © 2010
Russia Poised To Leapfrog Ukraine, Moldova In EU Visa Drive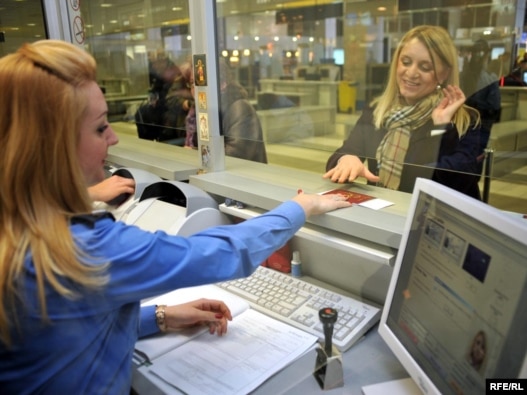 May 14, 2010
BRUSSELS -- Russia is putting pressure on the European Union to turn the next top-level meeting between the two -- the Rostov-na-Donu gathering on May 31 -- into a "visa summit."
Officials in Brussels say the EU and Russia will jointly sign a document at Rostov-na-Donu outlining "common steps" toward visa liberalization. This would represent a significant advance for Russia in its decade-long drive toward visa-free travel in the EU. At the same time, it would hand Russia a psychological and political victory over countries like Ukraine, Moldova, and Georgia, who have long awaited visa liberalization and have offered political reforms to get it.
If Russia, which has no obligations to reform, steps ahead of those countries in the visa-free queue, it will only serve to emphasize that the status of the EU's Eastern Partnership countries matters very little when it comes to strategic concessions from the bloc.
Diplomats say a majority of EU foreign ministers, debating the issue in Brussels on May 10, supported the plan. (Under EU rules, a qualified majority decision is sufficient.) A concession on visas is seen as essential to ensure the success of the Rostov-na-Donu summit on May 31.
There, the EU wants Russia to commit to a broad "modernizing partnership" by reaffirming its commitment to concluding a new strategic partnership agreement, joining the World Trade Organization, and cooperating on a range of issues from border management to trade issues.
Russia's champions in this debate are Germany, France, and most of the EU's southern member states -- along with, somewhat surprisingly, Finland. Poland continues to sound a cautionary note, but even the plan's detractors now see it as a foregone conclusion.
'Road Map' In All But Name
In all but name, the common steps constitute a "road map" -- the EU term for an agreement committing the bloc to dropping its visa requirement for short-stay visitors to its Schengen space (comprising all EU countries except Britain, Ireland, Cyprus, Bulgaria, and Romania; as well as Switzerland, Norway, and Iceland) once its conditions have been met.
Visa-free travel in the EU has become the most desirable goal for all of the bloc's Eastern neighbors, who see in it great psychological, political, and economic benefits.
So far, only countries in the western Balkans have been awarded such road maps. No ex-Soviet country outside the EU has managed to secure one.
A visa-liberalization road map sets out detailed requirements for reforms to be implemented in key areas. Chief among the EU's concerns are document security -- above all, the introduction of biometric passports; border management; combating illegal migration; and the fight against organized crime and corruption.
The road map does not fix the date when visas will be lifted, but it effectively commits the EU to doing so once all its conditions have been met. In the western Balkans, Serbia, Croatia, and Macedonia late last year became the first countries to complete a road map -- and are now seen as having set a precedent for others.
Top EU foreign policy official Hugues Mingarelli made the link at the European Parliament in early April, when he said a number of EU member states are reluctant to give Ukraine a road map for fear of making movement toward the abolition of visas a virtually "automatic process." Instead, these EU countries would like to retain what Mingarelli described as their
"political discretion."
Most Desirable Goal
Visa-free travel in the EU has become the most desirable goal for all of the bloc's Eastern neighbors, who see in it great psychological, political, and economic benefits. Most EU member states, on the other hand, are fearful of greater immigration and crime, and generally do not want to send Eastern neighbors signals which could be interpreted as encouragement to pursue a course aimed at eventual accession.
As a result, movement toward visa liberalization has been a drawn-out process. Russia was the first to secure it as a "long-term" goal in 2003. Ukraine followed suit in 2008, and Moldova did the same earlier this year.
A number of ministers on May 10 warned that Russia is attempting to manipulate the EU, offering unenforceable promises of partnership and cooperation in return for what remains effectively the bloc's only real leverage.
Polish Foreign Minister Radoslaw Sikorski

Visa 'Currency'
Poland's Radoslaw Sikorski warned that visa liberalization is a "currency" the EU should spend wisely. Sikorski noted that the EU's visa policy "must not go against its foreign policy," with its declared aim of transforming Russia into a European society where the rule of law prevails. Talks on a new EU-Russia strategic partnership treaty have stalled, largely as a result of Russia's palpable lack of interest in saddling itself with further obligations.
Sikorski, along with the ministers of the Baltic and Nordic countries as well as Romania, also argued that Russia must not advance ahead of Ukraine, Moldova, and the EU's other Eastern neighbors, who this week celebrated five years of membership in the European Neighborhood Policy and last week the first year of their Eastern Partnership with the EU.
A number of ministers said the issued should be linked to Russia's cooperation on frozen conflicts involving Georgia, Moldova, Armenia, and Azerbaijan.
But the Friends of Russia club appears to have carried the day, supported by the EU's executive arm, the European Commission. France, Spain, and Portugal once again emerged as champions of "positive interdependence" between Russia and the EU. Greece and Cyprus highlighted the prospective benefits of visa-free travel with Russia. All were identified as primary targets for Russian foreign policy engagement in a memo published last week by the Russia version of "Newsweek."
Officials say the outcome of the Brussels meeting was decided by Germany. Traditionally skeptical of immigration, Berlin appears to have concluded that the economic benefits of improved ties with Russia will be sufficient to offset the downside.
After the Brussels meeting on May 10, Germany was described as the "swing state" by the Finnish Foreign Minister Alexander Stubb -- representing another country which has pursued an increasingly pragmatic course in its relationship with Moscow over the past few years.