Viktor Yanukovych promises Ukraine will embrace Russia | World news | guardian.co.uk
Viktor Yanukovych promises Ukraine will embrace Russia
New president's inaugural Moscow visit appears to usher in new era between countries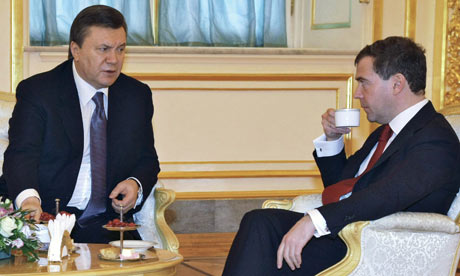 The new president of
Ukraine
,
Viktor Yanukovych
, has promised a dramatic improvement in relations with
Russia
during his first official visit to Moscow.
Speaking after a meeting with his counterpart,
Dmitry Medvedev
, Yanukovych said he would perform a sharp U-turn on the polices pursued by his predecessor, Viktor Yushchenko, whose pro-west and pro-Nato stance infuriated the Kremlin.
Welcoming him warmly, Medvedev said Yanukovych's election victory meant that the "brotherly ties" between Ukraine and Russia could now be restored. He added that the venomous stand-off between Moscow and Kiev following the 2004 Orange Revolution – a "dark streak", as Medvedev put it – was now over.
Yanukovych's trip followed a visit on Monday to Brussels. He appears to be engaged in a delicate diplomatic balancing act between Ukraine's giant western and eastern neighbours. Asked why he had gone to see the EU first, Yanukovych declared simply that the Europeans had invited him earlier.
Ukraine's new president was
sworn in last week
after narrowly defeating Yulia Tymoshenko, the country's prime minister, who leaned towards Europe and the west.
Her Orange parliamentary coalition collapsed
on Tuesday and Yanukovych is attempting to form his own government.
Grinning broadly, and speaking in his native Russian, Yanukovych respectfully referred to Medevdev as "Dmitry Anatolyevich" during a joint press conference held in the Kremlin. At times he came across as a nervous suitor. "I've only been in the job [of president] a few days. I'm still learning," he joked anxiously.
Yanukovych also met Vladimir Putin, Russia's prime minister. Putin is said to regard Yanukovych – a former convict – as a provincial thug and serial loser, following Yanukovych's bungled attempt to fix the vote during Ukraine's 2004 presidential election. In 2004 Putin was captured wrinkling his face in disgust when Yanukovych offered him a sweet.
The one-day meeting yielded few concrete results. But the outlines of a new Russia-friendly Ukraine were clear – with Yanukovych indicating he is ready to renew the lease on Russia's Black Sea fleet, which expires in 2017, whereas Yushchenko had pledged to evict the Russians from their base in the historic Crimean port of Sevastopol.
He gave assurances that Ukraine was not contemplating joining Nato, a step that Russia regards as unacceptable. Asked whether Nato membership was still on the cards, Yanukovych said Ukraine would work with Nato but not join it. "Ukraine is a non-bloc European country," he said.
The two sides discussed Ukraine's large gas bill. Yanukovych promised during his election campaign to renegotiate a controversial gas deal signed by Putin and Tymoshenko last year. He wants to reduce the price paid by Kiev from $305 to $205-$210 per thousand cubic metres. It remains unclear how much the Kremlin is willing to co-operate.
Yanukovych made clear that he shares the Kremlin's fiercely patriotic view of Soviet history, announcing that Ukrainian and Russian veterans would hold joint celebrations in May to mark the 65th anniversary of the defeat of Nazi Germany. Medvedev said Yanukovych had come up with the idea of a special train that could bring old soldiers together.
Andrew Wilson, a senior fellow at the European Council on Foreign Relations, said Yanukovych was trying to balance Ukraine's interests with Europe and Russia. "Yanukovych is dealing with the new geography of the region. The US may not have changed its politics but it has downgraded Europe in its priorities. At the same time he wants a better personal relationship with Russia's leaders and with Putin. Things have been seriously bad since the incident in 2004 when Yanukovych offered Putin a sweet. "
Under Yushchenko, relations between Moscow and Kiev grew so acrimonious that Medvedev memorably described Yushchenko as a "political corpse". He refused last year to send an ambassador to Ukraine until Yushchenko, a harsh critic of the Kremlin who sought to leave Russia's sphere of influence, was out of office.
"Even when our country's ambassador was not in Kiev I would wake up thinking about Ukraine," Medvedev said. "Now we have fundamentally different possibilities ... We will need to reanimate Russian-Ukrainian relations."
Oral revolution
Viktor Yanukovych's legendary gaffes have earned him comparison with the patron saint of the foot-in-mouth-prone: George Bush.
Campaigning ahead of last month's Ukraine election, Yanukovych described the Russian playwright Anton Chekhov as a "Ukrainian poet.". He referred to Anna Akhmatova – who was a poet – as Anna Akhmetov. He appeared to be confusing her with Rinat Akhmetov, Ukraine's richest man and Yanukovych's billionaire godfather.
During his first foreign trip to Brussels on Monday, Yanukovych came up with a new word for Kosovo – Montenegro. He also muddled up North Ossetia – which is part of Russia – with South Ossetia, the Russian-backed puppet region at the centre of the
2008 Russian-Georgian war
.
Supporters point out that Yanukovych – a native Russian speaker – had little formal education and has at least taken the trouble to learn Ukrainian, a language that many Ukrainians cannot speak.