Communist Ukrainian Institute Head Denies Famine Was Deliberate - Radio Free Europe / Radio Liberty © 2010
Communist Ukrainian Institute Head Denies Famine Was Deliberate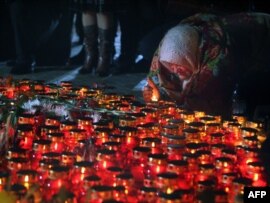 July 29, 2010
KYIV -- The new director of Ukraine's National Memory Institute says that while the 1932-1933 famine in Ukraine was "the result of difficult circumstances," it was not artificially provoked, RFE/RL's Ukrainian Service reports.
Millions of Ukrainians died in the famine, which was at least partly the result of restrictions imposed by Soviet leader Josef Stalin on farmers across the Soviet Union.
Valery Soldatenko told RFE/RL that he drafted a resolution on the famine that was adopted by Ukraine's Communist Party in January 1990, and he has not revised his view since then.
That resolution for the first time formally criticized the policies of the Soviet leadership. At the same time, it stressed that the Communist Party did all it could to help the famine victims.
In 2006, the Ukrainian parliament adopted a bill officially recognizing the famine as genocide. But President Viktor Yanukovych, who was elected in February 2010, questions that interpretation, which has been harshly criticized by Russian officials.
Some Ukrainian historians and opposition politicians have condemned last week's appointment of Soldatenko to head the National Memory Institute, which was founded in 2006 under then-President Viktor Yushchenko.
Prior to the collapse of the USSR, Soldatenko conducted research into the history of the Communist Party of Ukraine. In recent years he worked at the National Academy of Sciences in Kyiv, focusing on early 20th-century Ukrainian history.
In an interview on July 26 with RFE/RL, Soldatenko said he has never surrendered his Communist Party membership card. "I share the Communist ideas of social and national justice, social and national equality," he said.
Former Ukrainian Security Service Archives Director Volodymyr Viatrovych told RFE/RL that Soldatenko's communist views will prevent him from overcoming the totalitarian legacy in the country.
Ludmyla Hrynevych, of the Academy of Sciences' Institute of History, expressed particular concern about Soldatenko's views on the famine.
"He espouses a neocommunist version of the Holodomor [famine] interpretation," she said. "He indirectly implies that the [subsequent Soviet] victory in World War II [retroactively] justifies the Holodomor," Hrynevych said.
Soldatenko said in his new post he will try to promote a "national memory" that unites Ukrainians and will put "the Ukrainian interest" first. He added that the national memory should not serve one political force.
Soldatenko, 67, was born in the Donetsk region, as were Yanukovych and many members of the new government.
The Communist Party is a member of Ukraine's ruling coalition.