Tymoshenko Trial Delay Seen As Favor To EU
Tymoshenko Trial Delay Seen As Favor To EU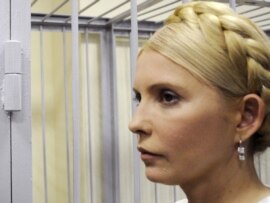 September 13, 2011
KYIV/WARSAW -- Political allies of former Ukrainian Prime Minister Yulia Tymoshenko say that a Kyiv court's adjournment of her trial is an attempt to gain leverage with international partners, RFE/RL's Ukrainian Service reports.
Judge Rodion Kireyev unexpectedly announced in Kyiv on September 12 that Tymoshenko's trial will be postponed until September 27, after agreeing that she needs more time to prepare for the final stage of the trial.
Kireyev had previously denied similar requests from her defense team for such a delay.
Tymoshenko is accused of abuse of power while prime minister in signing a 2009 gas deal with Russia. She denies the charges as baseless and politically motivated.
The prosecutors in the case did not appeal the judge's ruling. "We as well as the defendants are executing the judge's decision," Yuri Boychenko, spokesman for the Prosecutor-General's Office, told RFE/RL.
Serhiy Sobolev, the head of Ukraine's shadow government and deputy chairman of the opposition BYT-Batkivshyna faction in parliament, told RFE/RL that "the authorities do not know what to do [regarding Tymoshenko]. This [postponement] time will be used at international summits in order to try to overcome this shameful situation for Ukraine [regarding the trial of Tymoshenko]."
Tymoshenko allies are angry that she will have to wait in pretrial detention until the trial resumes. She has been in custody for more than one month.
European Parliament deputy Pawel Zalewski, of Poland told RFE/RL last week that the EU's consideration of future membership for Ukraine should not depend on the Tymoshenko trial. He added that a proposed new association agreement between Brussels and Kyiv would emphasize the importance of the rule of law in Ukraine.
Zalewski said he believes the association agreement should be signed by the end of this year when Poland chairs the EU.
"If we will not finish negotiations within the next few months then we will not finish them within the next few years and the ramifications [of that failure] will be obvious to every Ukrainian," he said.
Ukraine has said it hopes to conclude the association agreement with the EU by December.
On September 9, the press service for Polish President Bronislaw Komorowski said he is "rather optimistic" about developments in Ukraine -- including the Tymoshenko case -- following a telephone conversation with Ukrainian President Viktor Yanukovych.
The comments raised some questions in Ukraine about the independence of the justice system as well as the possible Polish influence as a mediator in the Tymoshenko case.
Read more in Ukrainian her